2019年05月24日
Related News
Opening of a photo exhibition that RIIS co-sponsored in Romania
From May 7th to May 31st 2019, the Romanian-American University in Bucharest, Romania was hosting a photo exhibition of Okinawan festivals. The exhibition includes 170 photos taken by RIIS postdoctoral researcher Alina Alexandra Hara during her fieldwork which extends to over 7 years in the Ryukyu Islands, and it's titled "Islands Looking to Paradise. The Spiritual Life in Okinawa, Japan". For the exhibition we collaborated with "Angela Hondru" Romanian – Japanese Studies Center at the Romanian – American University, which included this event in the lineup for their annual Japanese Culture Days (May 7th to 13th).
The opening ceremony was held on the 7th of May and was attended by university staff, center volunteers, students, as well as the general public, media and Japanese embassy delegates. Speeches were held by the Ovidiu Folcut, university dean, Serban Georgescu, the center director, Takahiko Watabe, the embassy of Japan in Romania councilor, emeritus professor Angela Hondru and prof. Haruna Nakamura from the University of the Ryukyus. Prof. Nakamura and Dr. Hara, also held a workshop on Okinawan history and culture aimed at participating university students.
We would like to extend our sincere gratitude for their warm collaboration to "Angela Hondru" Romanian–Japanese Studies Center, Romanian – American University, as well as the Japanese Embassy to Bucharest.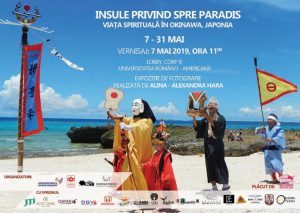 The exhibition poster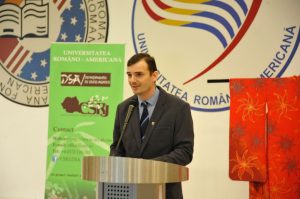 Opening remarks by "Angela Hondru" Romanian – Japanese Studies Center director, Serban Georgescu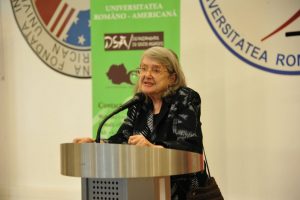 Opening remarks by emeritus professor Angela Hondru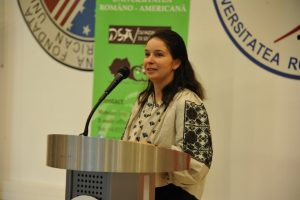 Opening remarks by Alina Hara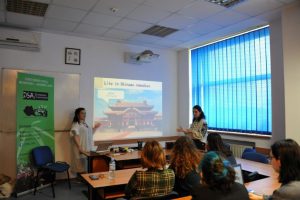 Scenes from the workshop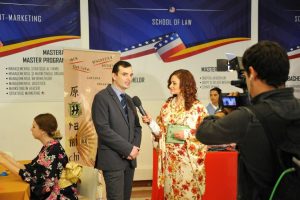 Media coverage